About SCCCD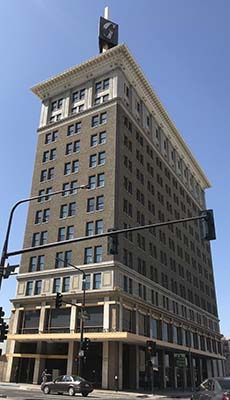 State Center Community College District (SCCCD) was formed in 1964 when it assumed control of Fresno City College and Reedley College. SCCCD serves approximately 1.7 million people and 38 unified and high school districts in more than 5,743 square miles of urban and rural territory, including most of Fresno and Madera counties and portions of Kings and Tulare counties.
SCCCD is governed by a seven-member board of trustees who represent seven trustee areas. Total District enrollment for 2019-20 is over 69,000 students.
SCCCD is a merit system district with over 2,850 faculty and classified staff represented by the California School Employees Association (CSEA) and the American Federation of Teachers (AFT). The total operating budget for SCCCD in 2019-20 was 384.6 million.
The SCCCD Board of Trustees approved purchase of 1171 Fulton in March 2018 for $10.5 million, including a parking structure and is located at the southeast corner of Fulton & Fresno Street. 
More information can be located at the District Office - Building History and Images page.
The Four Colleges of SCCCD
Fresno City College, established in 1910, enrolls in excess of 37,000 students and offers more than 100 associate of arts and science degree programs and 60 certificate of achievement programs in vocational/occupational areas. 
Reedley College, established in 1926, is located in Reedley (approximately 25 miles southeast of Fresno) and enrolls approximately 13,000 students in a variety of courses and degree programs in occupational education and the arts and sciences.
Clovis Community College was established in 1992 as a center and became a college in 2015. It serves more than 13,500 students and provides comprehensive educational opportunities for basic skills development, associate degrees, certificates for workforce development, and transfer degrees.
Madera Community College is the newest Community College in California and only higher education institution in Madera County. It offers 97 degrees and certificates to nearly 8,000 students. The Madera Community College Center in Oakhurst is located 14 miles south of the entrance to Yosemite and offers programs in general education for transfer and two-year degrees. In addition, the District offers occupational and technical training at its Career and Technology Center and the Training Institute.