Robert A. Fuentes, Trustee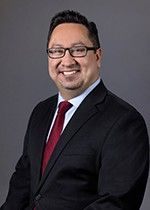 Robert A. Fuentes was elected to the Board of Trustees in November of 2022 and represents Area 5.
Rob currently serves as an Assistant United States Attorney as well as an adjunct law professor at San Joaquin College of Law. He previously worked in private practice, representing individuals in civil rights, employment, and immigration matters. Rob also formerly served as a staff attorney at the United States District Court in Fresno. Prior to law school, Rob worked as a legislative staffer in the U.S. House of Representatives.
Rob was born and raised in the San Joaquin Valley. A first-generation college graduate, Rob holds a Bachelor of Arts with Honors from Stanford University, a Master in Public Administration from Harvard Kennedy School, and a Juris Doctor from Yale Law School. Immediately after law school, Rob returned home to serve the communities that raised him.