International Education
International Education plays a significant role in the District and is enhanced by our International Students, Study Abroad programs, International curriculum, and Faculty International Professional Development.
International Education at State Center Community College District is managed by the office of the Vice Chancellor of Educational Services and Institutional Effectiveness and the Coordinator of International Education, Dr. Margaret Hiebert. The District Wide International Education Workgroup meets on a wide array of issues related to international education and global citizenry.
Student News
Gilman Scholarship Winner!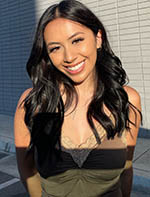 My name is Jolina Obligacion and my major is nursing. My study abroad program is in Athens, Greece. Reading Greek mythology in middle school is what first sparked my interest in Greek culture. Through this study abroad program, I'll be able to immerse myself in Greek culture and visit historical sites, which I'm super excited about. I also hope to be a travel nurse one day, so studying abroad should help prepare me to live in a place I'm unfamiliar with.