Danielle Parra, Secretary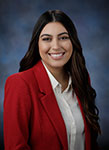 Danielle Parra was elected to SCCCD's Board of Trustees, Area 3, in November of 2020. Danielle was raised in and currently resides in Fowler, CA. An alumnus of Fresno's San Joaquin Memorial High School, Danielle was active in sports, theatre, scholastic, and volunteer service programs. Most notably, Danielle became a life member of the California Scholarship Federation and was a board-member in the Volunteer Service Club. Danielle has volunteered as a mentor to local at-risk youth providing tutoring and outreach services, founded a volunteer group aiding the Ronald McDonald House, and continues to serve her community by providing meals to citizens in her community amidst the COVID-19 pandemic.
Danielle earned her bachelor's degree in public relations, minoring in public administration at Fresno State University in Fall 2019. She is currently working toward obtaining her master's degree in public administration through San Diego State University's Global Campus in spring 2021. Over the past three years, Danielle has worked part-time as a retail coordinator and bookkeeper while continuing her higher education studies.