Deborah J. Ikeda, Vice President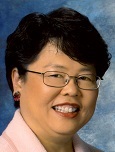 Deborah J. Ikeda was elected to the Board of Trustees in November of 2016, and represents Area 6. Her current term of office is until 2020.
Trustee Ikeda is a retired president of Clovis Community College. She began her educational career as a counselor for Loop City College in Chicago and became an assistant dean of academic support services before becoming the associate dean of students, counseling and guidance at Fresno City College. She served as the interim vice president of instruction for Fresno City College, and as the dean of library and instructional support services before becoming the vice president of instruction and student services for the North Centers where she lead the accreditation effort to fast track the Center on its way to becoming the third independently accredited college within the State Center Community College District, Clovis Community College.
Mrs. Ikeda served on the California Community College Board of Chief Instructional Officers, the California Community College Chancellor's Office Advisory Committee for Matriculation and the Counseling Advisory Committee
She previously served on the California State Superintendent of Education Advisory Council for Asian Pacific Islander Affairs and as a Federal Department of Education Consultant to review and rank submitted grant applications. She currently serves as a member of the St. Agnes Hospital Board of Trustees, the Economic Development Strategy Update Committee for the City of Clovis, the Citizens Review Panel for Measure B (a sales tax passed to support the Fresno County Public Library), the Board of Trustees for California Health Science University, the Fresno Assembly Center Memorial Project Committee and Pinedale Assembly Center Memorial Plaza Committee.
Her education includes a bachelor of science degree in elementary education from the University of Illinois, Champaign Urbana, and a masters of education in counseling psychology from University of Illinois, Champaign Urbana as well.