Destiny Rodriguez, Trustee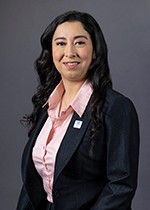 Destiny Rodriguez has worked on air quality, health, and environmental issues in the Central Valley for over fifteen years. Destiny worked for organizations such as The Climate Center, Central California Asthma Collaborative, Central Valley Air Quality Coalition, Coalition for Clean Air, National Parks Conservation Association, and the San Joaquin River Parkway and Conservation Trust. She is passionate about helping her community and the environment. Destiny is also a graduate of the Gamaliel National Leadership Training and Emerge California Political Candidate Training Program 2020. Destiny has a B.S. in Mass Communications Journalism with emphasis on Public Relations, and Chicano Latin American Studies from California State University, Fresno.
In her role as Regional Community Relations Manager, Destiny was responsible for strategic policy objectives from volunteers, students, policymakers, local government and allied organizations while designing and implementing local strategies to further community choice energy for the Fresno area. Currently she serves as Board Member Consultant to Gideon Kracov, Esq. Governor's Appointee at the California Air Resources Board.
In her spare time, Destiny sits on the Measure C Citizen's Oversight Committee in which she has been a member for over six years serving the public and ensuring that Measure C funds are spent as promised to the public for Fresno County's transportation needs. She also volunteers her time serving as planning member for Earth Day Fresno, Fresno Bicycle Pedestrian Advisory Committee, Fresno Latino Rotary Club and Central Valley Young Environmental Advocates. Destiny continues to be an advocate to provide safeguards for our community.