Gerardo Reyes, Student Trustee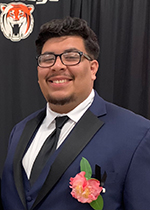 Gerardo "Jerry" Reyes is a first-generation college student at Reedley College, currently pursuing a degree in business administration with a focus on entrepreneurship and marketing.
Jerry is a valuable member of the Reedley College Associated Student Government, where he has held various leadership positions, including the role of ASG President. He currently serves as the Inter-Club Council President, where he oversees campus clubs and plans events to promote student life and community on campus.
Jerry is also a member of the Student Senate for California Community Colleges, where he serves as the Communication Officer for Region V. In the upcoming year, he will be taking on a more prominent role as the incoming Region V Legislative Affairs Director, where he will oversee all legislative and advocacy efforts of the Region. Additionally, he will serve as a voting member on the Student Senate for California Community Colleges Board of Directors.
Finally, Jerry will serve as the SCCCD Student Trustee for the 2023-24 Academic Year. His passion for leadership and advocacy for student affairs is highly commendable, and his commitment to making a positive impact on campus and in the community is remarkable