My Portal
About My Portal
Single point of access to your common applications, resources, and links. Once logged into the portal, many of these can be accessed without further authentication (Single-Sign-On for WebAdvisor, Canvas, and Self-Service, with more to come soon). My Portal Supports all major browsers as follows:
Google Chrome - Recommended for best experience
Mozilla Firefox - Recommended for best experience
Microsoft Edge
Apple Safari
Microsoft Internet Explorer is no longer supported.
Current Version: 1.7.0
Communication Preferences Panel
You can access the portal from the main District website or from any of the main college websites by clicking on the "My Portal" link. Students should access the portal from the college website they are attending to navigate to their correct college tenant:
District Website

Fresno City College

Reedley College

Clovis Community College

If you are using a mobile device, the link to the portal can be accessed from the District or college site menu

 icon and will display as follows when clicked: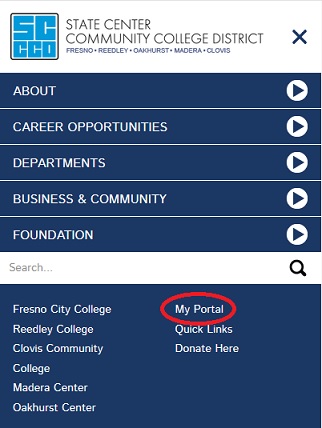 To simplify these instructions, only the District mobile menu is displayed. The My Portal link is located in the same location on all college websites as shown above.
Logging into the portal is easy!
Click on the Sign In button located on the My Portal Welcome page
Enter your Username and Password
Click on the Sign In button
If you run into trouble, click on the Problem Logging In link located on the login form to view support information.
---
The tutorials listed below assume that you are already logged into the portal. Follow the directions above if you are not yet logged in.
About WebAdvisor
Search for classes, register, check financial aid, check grades, pay fees online, and more.
How to access WebAdvisor
Click on the Dashboard tab
Click on the WebAdvisor button located in the My Favorite Apps portlet on the Dashboard, and WebAdvisor will open in a new browser tab
Click on Log In button located at the top right hand side of the WebAdvisor screen to complete the Single-Sign-On (SSO) process
How to favorite an application
Click on the Apps Catalog tab
Click on the  icon to display the context menu
Click on Add to my Favorites
How to remove an application from My Favorite Apps
Click on the Dashboard tab
Click on the  icon to remove the application from the My Favorite Apps list
How to move a portlet
Note: portlets that contain the

 icon are fixed and cannot be moved.
Click on Options in the portlet header to display the context menu
Click on Move this portlet
Move your mouse over the  icon and then click and hold the left mouse button and move the portlet to the desired location