Choose a Campus
Choose a campus that best meets your academic needs.

Fresno City College was established in 1910 and has the distinction of being California's first community college. Fresno City College serves approximately 34,000 students per year and offers more than 120 associate in arts and science degree programs and 96 certificate of achievement programs in vocational/occupational areas. The college includes police and fire academies and the largest nursing program in the west.

Established in 1926, Reedley College has the largest California community college farm and is one of only 11 California community colleges to have a Residence Hall. Reedley College is comprised of the main campus located in Reedley and college centers located in Madera and Oakhurst. The college and centers serve approximately 15,000 students annually.

Clovis Community College serves nearly 12,000 students in the Central Valley. Clovis Community College offers state-of-the-art facilities with a dynamic campus culture embracing diversity, individualism, and uniqueness of our student population. The main campus is located on Willow Avenue and the Herndon Campus located near Peach and Herndon.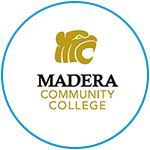 Granted full college status in July of 2020, Madera Community College offers innovative and life-changing opportunities in a diverse, inclusive and equitable environment. With a wide range of course offerings, the home of the Mountain Lions features comprehensive nursing, agribusiness and business administration programs. Along with Madera Community College at Oakhurst, the two campuses serve approximately 7,200 students annually.