McClarty Center for Fine and Performing Arts
Nov 12, 2020
—
McClarty Center for Fine & Performing Arts, Darden Architects Recognized for Project Design

With shovels expected to hit the dirt next spring, Reedley College's McClarty Center for Fine & Performing Arts is already receiving statewide recognition. Darden Architects, the creators of the state-of-the-art facility, received the "Award of Honor" for design from the Community College Facility Coalition (CCFC) November 12. This honor recognizes excellence in community college project design.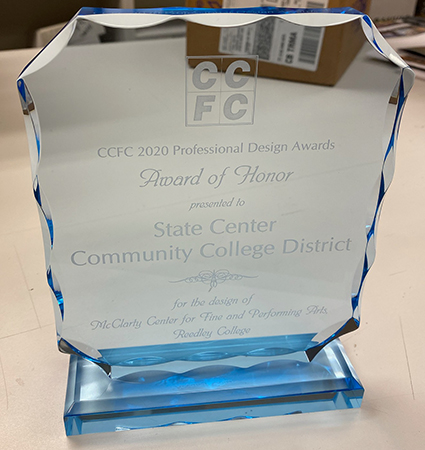 "We congratulate Darden Architects for being recognized for their tireless work on this project," said Reedley College President Dr. Jerry Buckley. "We look forward to their designs becoming reality in the very near future. This facility will create multiple opportunities for our students, and provide a spectacular venue for the arts in our community."
The 24-thousand square foot facility is planned for the northeast corner of the campus off Reed Avenue. Groundbreaking will take place sometime in the spring of 2021, with a completion date expected in the fall of 2023. A date for the groundbreaking ceremony has not been announced.
The McClarty Center for Fine & Performing Arts is a 26-million-dollar project which includes a five-hundred seat theatre with an art gallery, conference room, office space, concession stand, and an open-air area in the lobby, providing additional space for hosting campus and community events.
Accepting the award were SCCCD Chancellor Dr. Paul Parnell, Reedley College President Dr. Jerry Buckley, SCCCD Vice Chancellor of Operations Christine Miktarian, SCCCD Director of Facilities Planning George Cummings, Darden Architects Project Architect William Brandle, and Darden Architects Associate Martin Ilic.
If you would like to schedule with Dr. Buckley regarding this tremendous honor, please contact Director of Marketing and Communications George Takata george.takata@reedleycollege.edu or 559-213-3034.