Clovis Coach, CJ Albertson Sets World Record
Nov 18, 2020
—

CJ Albertson, cross country coach at Clovis Community College, has broken the 50 kilometer (31.07 miles) world record by one minute and eight seconds. Fighting the wind and rain on Sunday, November 8, 2020 at Veterans Memorial Stadium in Clovis, California, Albertson completed 125 laps in 2 hours, 42 minutes and 30.28 seconds.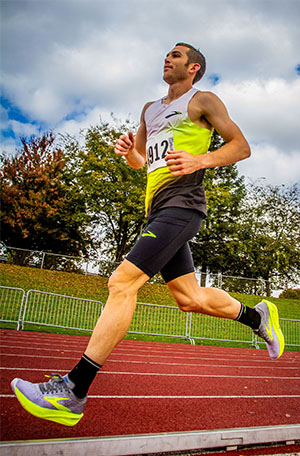 Albertson ran in his first marathon two years ago, at the age of 25. In that Two Cities Fresno Marathon, he not only took first place, but he also qualified for the Olympic trials. It was that race that inspired Albertson to continue with the sport. "I qualified for the Olympic trials on my first marathon. I really enjoyed everything about the training and the race and after taking first, I thought I must be good at this," said Albertson.
He has proven to be very good during his two years as a marathon runner. Albertson also holds two world records and has come in first place in five races. He also has one second place title with a time that was four seconds behind the winner.
Next for the marathon runner, is an invitation to an elite-only marathon in Chandler, Arizona, on December 20, 2020. The race is reserved for the fastest people in North America and limited to 50 men and 50 women. He admits he has not trained as often as he would like because of the bad air caused by the Creek Fire. With six weeks to train, his goal is to finish the race in two hours and ten minutes.
His success extends further than the marathon track. CJ Albertson is the inaugural Cross Country Coach for Clovis Community College. In his first year, he led both the Men's and Women's teams to the State Championships and was named the CVC Conference Women's Coach of the Year.
He remains committed to the success of his athletes on and off the track. When asked which of the many accomplishments he was most proud of, he responded, "I am most proud of all of the students that I have taught and coached, and I hope their time at Clovis Community College has a positive impact on where their future takes them."
Photos are Courtesy of Brooks Running