About
Crimes, suspicious activities, and any emergency should be reported to the District Police Department. Any person may contact District Police at any time by calling (559) 244-5911 or Extension 5911 from campus phones.
Overview
The State Center Community College District Police Department is a service-oriented police agency. The SCCCD Police Department is staffed by 15 fully-sworn Peace Officers pursuant to Penal Code section 832.32(A). Our Officers are trained and regulated by standards established by the California Peace Officer Standards and Training (P.O.S.T.) Commission. The officers have the same authority as a Municipal Police Officer or County Deputy Sheriff.
District Police Officers are responsible for patrolling various campus grounds, taking crime and incident reports, conducting investigations, enforcing all applicable laws, traffic regulations and providing a safe environment for our students, faculty, staff and guests.
Mission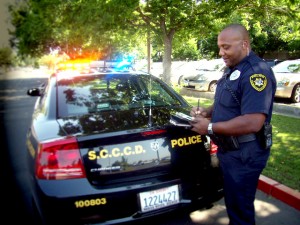 The mission of the State Center Community College District Police Department is to provide comprehensive law enforcement services that enhance the educational mission of the District and the colleges we serve. We are committed to the protection of life and property, the prevention and detection of crime, the enrichment of the quality of life, and embracing the principles of "Community Oriented Policing and Problem Solving." The SCCCDPD will work collaboratively with academic and administrative units, individuals, and organizations. Through these partnerships we will preserve a learning environment that supports academic freedom, respect for diversity, fair and equal treatment to all, and an open exchange of ideas. The SCCCDPD is committed to being a sensitive, caring, and impartial policing organization dedicated to the highest level of professionalism and integrity.