Miguel Arias, Trustee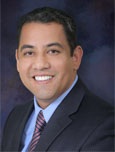 Miguel Arias was elected to the Board of Trustees in November of 2014 and represents Area 5. His current term of office is until 2018. Mr. Arias is the Executive Director of Community and Family Services at Fresno Unified School District. He has served in various senior roles within Fresno Unified School District including Chief Information Officer and Executive Director of the Office of Constituent Services. His previous experience also includes Chief of Staff to Fresno City Council President Blong Xiong. He also served as Rural Resource Specialist for Fresno County Economic Opportunities Commission where he led efforts to create and implement economic development projects utilizing fallowed agricultural land. Prior to that, he was Legislative Assistant for Congressman Calvin Dooley in both Fresno and Washington, D.C. where he established an immigration education program and staffed the bipartisan House Taskforce on Immigration Reform.
Mr. Arias is a native of Mendota. After graduating from Mendota High School, he attended California State University, Fresno where he studied Criminology and Chicano Latino Studies.
In 2006, he was appointed and subsequently elected as a trustee of the Mendota Unified School District. As trustee, he assisted the leadership team in improving student achievement and facilities including the construction of a new middle school and the establishment of the Westside Institute of Technology, a vocational training center for residents in rural western Fresno County. Additionally, he served as a State delegate to the California Democratic Party and acting president for the Mendota-Firebaugh Rotary Club.