Vice Chancellor of Finance and Administration
The Board of Trustees of State Center Community College District (SCCCD) is seeking a strong, capable, and energetic Vice Chancellor, who has a clear vision of the District's opportunities and diverse needs. The Vice Chancellor will lead the District's ongoing efforts on equity, social justice and anti-racism initiatives. Located in California's San Joaquin Valley, the District consists of four colleges (Fresno, Reedley, Clovis and Madera) and two community college centers (Oakhurst, and the Career and Technology Center). The student-centered District has an enrollment of approximately 54,000 students per semester. Our faculty, staff, and administration are focused on student access, success, and completion.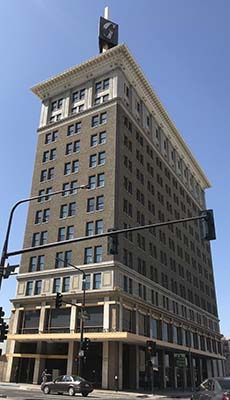 (District Office Building at Downtown Fulton Street)
Minimum and Desirable Qualifications
Evidence of responsiveness to and understanding of the diverse academic, socioeconomic, cultural, disability, gender identity, sexual orientation, and ethnic backgrounds of community college students, as these factors relate to the need for equity minded practices; 
and
Master's degree from a regionally accredited college or university in finance, economics, accounting, business administration or a related field; or
A bachelor's degree in one of the areas above and a certified public account's (CPA) license; 
and 
Five (5) years of demonstrated successful leadership experience in a senior management position (Vice President or Senior Director or above) with responsibility for financial and business management operations within an educational environment. 
Possession of a California Public Accountancy (

CPA

) License. 
Experience with managing general obligations and bond funds. 
Responsible track record in resource development. 
Demonstrated effectiveness in program planning, organization, staffing, budgeting, and evaluation. 
Knowledge of common practice, rules and regulations relating to budgeting, receipt and deposit of district income, and payment of district obligations. 
Knowledge of integrated planning and development of resources. 
Knowledge of the purposes of public community colleges. 
Demonstrated skill in the compilation of data and in the writing of reports. 
Experience with computerized information and financial systems and their use in analysis and reporting. 
Professional and Personal Characteristics
| Characteristic | Description |
| --- | --- |
| Embraces the Mission of the Community College in California | Exhibits awareness of the California community college and has management experience in navigating relevant issues. Implements policies and practices guided by the diverse needs of students and the community; and promotes rigor that results in high student achievement to advance the mission of the community college. |
| Effective Organizational Leadership | Knowledge and evidence of leadership experience in higher education with a demonstrated understanding of the complex dynamics of a large multi-college district, including efficient and streamlined processes and procedures in fostering an ethos that normalizes anti-racism and equity for racially minoritized students. Ability to lead in assigned areas and understands the importance of the Vice Chancellor's role within the authority structure in a multi-college district. Engages in a creative, innovative, and collaborative manner with District and Colleges' leadership. Accesses and assimilates information and uses quantitative and qualitative data for decision-making, planning, mobilizing resources, and motivating individuals to creatively overcome challenges facing the District and to make continuous improvements in operations, programming, procedures, and services. |
| Passion to Lead in Difficult Times | Has the resilience and perseverance to address challenges and confrontations. Is deliberate in assessing diverse and conflicting perspectives; brings those perspectives to consensus and successful outcomes. Is an effective, data-informed decision maker and transformational leader of change and will commit to making changes based on data. Is action and results oriented, innovative, and creative, and responds to situations in a timely manner. |
| Leadership in Dynamic Times | Provide visionary and strategic leadership and guidance as the District adjusts to changing landscapes with a focus on advancing and maintaining educational quality within a District-wide culture of equity-mindedness and anti-racism, increasing access, and student success during and after the current pandemic crisis. This will include building back enrollments and outreach efforts and adjusting instructional and support services delivery modalities to better meet the needs of students and communities served by the District's colleges. |
| Community Mindedness | Understands that SCCCD is a large college district that serves the needs of urban, rural, and suburban communities and is active and visible throughout the District, building strong coalitions and working with leaders of local school districts, municipal governments, non-profits and community service organizations as well as workforce development, business and industry partners. Embraces and appreciates the unique cultural and dynamic environments of the many diverse local communities throughout the District service area. Values the strengths each of the areas contributes, and at the same time serves as a catalyst for change by engaging stakeholders through actively addressing barriers associated with generational poverty and systemic racism which have existed for decades throughout the region. |
| Collegial Consultation and Participatory Governance | Has a clear commitment to collegial consultation and inclusion in important shared decision-making processes. Exhibits a collaborative leadership style with all constituent groups to accomplish critical institutional objectives. Understands the philosophy and practices that are the foundations of AB1725. Works diligently to maintain and increase the environment of engagement and collaboration that is central to the District's and Colleges' governance structures. |
| Values Diversity, Equity and Inclusion | Has strong cultural competency and has experience in leading a successful Diversity, Equity, Inclusion and Accessibility (DEIA) student experience and actualizing a Districtwide culture and climate that normalizes equity with a heightened focus on racially-minoritized and marginalized groups, and diversity, inclusion and accessibility for students, classified professionals, faculty and administrators including but not limited to background and identity factors such as socioeconomic, age, gender, ethnic, religious, sexual orientation, LGBTQ+, and disability status. |
| Collaborative Leadership | Understands, appreciates, and follows the principles of community involvement and partner engagement in the advancement of the District and Colleges' missions and goals; builds and fosters mutually beneficial partnerships with K-12 school districts, baccalaureate granting institutions, and other workforce development and community partners to advance student access and success. |
| Student Success, Equity and Engagement | Demonstrates strong student-centered leadership by addressing institutional barriers and creating a welcoming, inclusive, and engaging environment that provides multiple pathways to success for all students at the District's Colleges with a heightened focus on closing the achievement gaps for racially-minoritized and marginalized populations. |
| Highest Ethics and Integrity | Exhibits personal/professional ethics and integrity in all behavior and relationships with a strong sense of transparency, fairness, and equity in all decision making. |
| Effectively Motivates Others | Inspires trust and confidence through strong motivational skills and authentic engagement. Exhibits outstanding communication skills, a strong work ethic, positive attitude, and enthusiasm for the work of the District. Is a successful team builder with a proven ability to motivate everyone to perform at their best by recognizing the potential in others. |
| Effective Leadership in a Complex Educational Environment | Understands the Vice Chancellor's role in planning, budgeting, assessing, and leading continuous improvement within the authority structure in a multi-college district. Effectively manages all resources to advance the purposes of the District. Engages in a creative, innovative, and respectful manner with District leadership and external stakeholders. Knowledge of California and federal polices, laws and regulations governing community colleges and accreditation expectations. |
| Personable and Approachable | Is aware of own cultural background and how it influences perceptions, values, and practices and effects and shapes the relationship to students and staff. Holds self, and others, accountable, admits mistakes and learns from them. |
| Communication Skills | Communicates effectively with diverse internal and external constituencies while using interpersonal skills including tact, patience, and diplomacy. |
Application materials will only be accepted electronically. Please click the button below to apply:
Apply for Vice Chancellor, Finance and Administration >>

If you experience technical difficulties with the application, please contact Sareang Nhim at sareang.nhim@scccd.edu or (559) 243-7136