Ronald H. Nishinaka, Trustee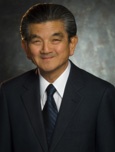 Ronald H. Nishinaka was elected to the Board of Trustees in November 2010, and represents Area 4. His current term of office is until 2018.
Trustee Nishinaka is a retired faculty member from Reedley College where he taught horticulture for 37½ years. Trustee Nishinaka served the Reedley community as Mayor Pro Tem and City Council Member for two terms, and chairman of the Fresno County Southeast Regional Solid Waste Commission which included Fowler, Kingsburg, Orange Cove, Parlier, Reedley, Sanger, Selma, and two county supervisorial districts. Currently, he serves as projects director with Tree Fresno.
Trustee Nishinaka graduated from Reedley College with an Associate Degree in Landscape Horticulture. He went on and earned a Bachelor's Degree from CSU Fresno and Master's Degree from the University of San Francisco. He obtained his Vocational Teaching Credential through Special Studies, University of California at Berkeley.