Bobby Kahn, President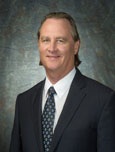 Bobby Kahn was elected to the Board of Trustees in November of 2014 and represents Area 1. His current term of office is until 2018. He accepted the position of Executive Director of the Madera County Economic Development Commission (MCEDC) in March of 2002. MCEDC is a Joint Powers Agency formed through an agreement between the City of Madera, City of Chowchilla and the County of Madera. Bobby handles all economic development related issues, including commercial and industrial development projects, for all three jurisdictions.
He holds a bachelor of science degree from Pepperdine University and spent approximately 20 years in the real estate brokerage business. Bobby is a past chairman and currently serves as treasurer of the California Central Valley Economic Development Corporation. He is a 12+ year member of CALED.